CONSTELAÇÕES DO CÉU DA MINHA BOCA


2020 (ongoing serie)

Mixed media on paper
85 x 60 cm

1. Flying short cause I shot myself
2. Bem que precisava de ir à máquina
3. Mister Miyagi
4. A great little mexican woman taught me how to look at the sky
5. Será que é tudo em vão?
6. And the sea dragon turned all oceans red
7. Yet to be titled
8. Dolphins jumping in the water in slow motion at night video still


On one of my trips to Mexico I had the opportunity to visit Casa Museo Frida Khalo in Coyocán, Mexico City.
In the middle of all that amazing colors, the blue walls, the yellow kitchen, the beautiful furniture and clothes, Frida's unique paintings... there was a small drawing that caught my attention.
It was a small piece of paper, about 8x10cm, in which Frida had draw with a red ink pen, a kind of constellation, several dots, of various sizes, interconnected with straight lines.

In reality, it wasn't only the rather crude drawing that caught my attention, but also the caption she wrote under the drawing, which said:

- "Constelación de estrellas o soles inútiles que solo existen en éste papel".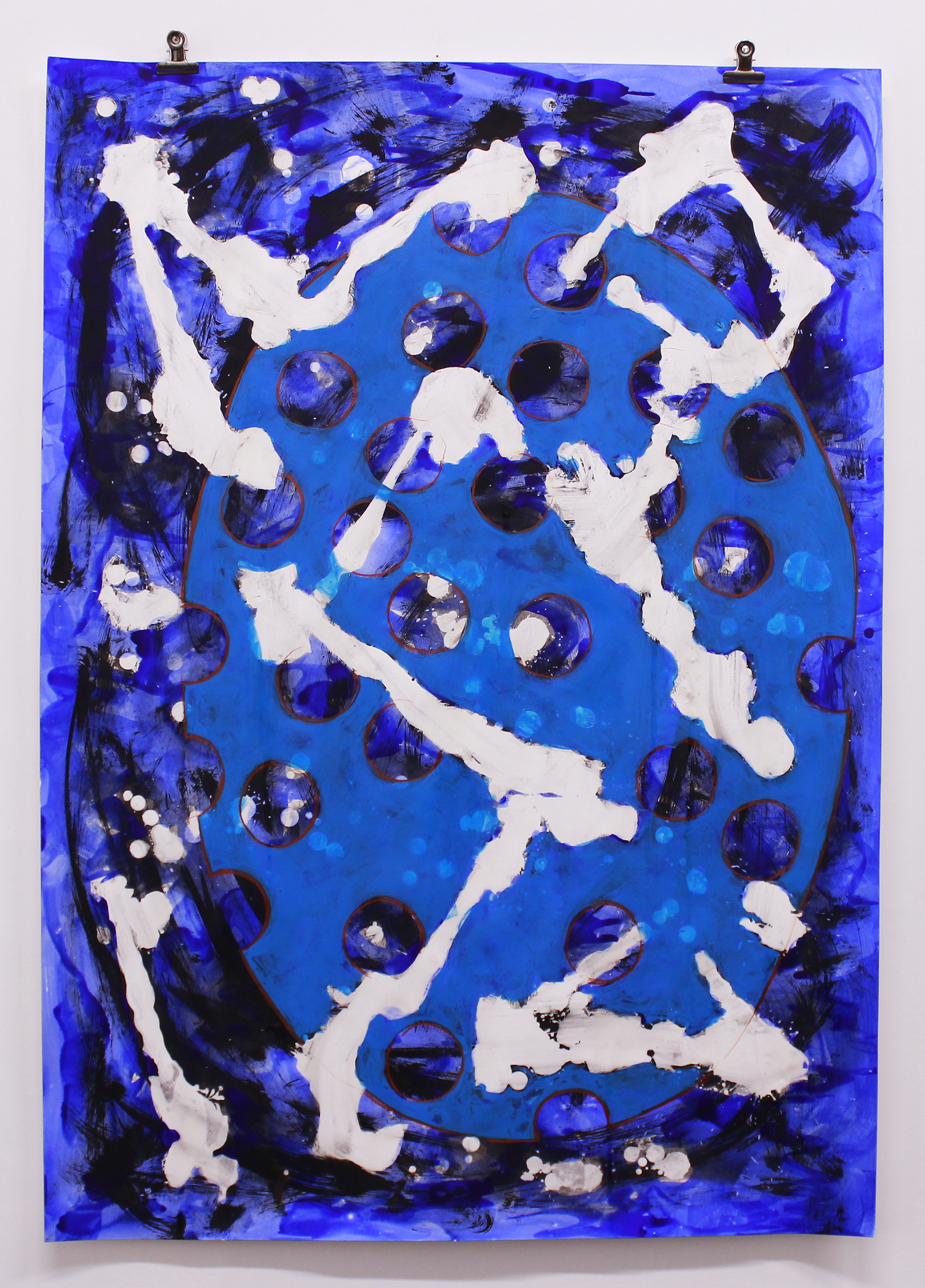 ---
WET DREAMS


2020

Mixed media on paper
60 x 42 cm (without frame)

Acrylic paint, charcoal, dry pastels, varnish, staples, tacks, sewing thread, clay, whelks, tape, stickers, tobacco packs, sponge, plastic, playing cards.

1. Ida Ekblad 2. Laure Provost
3. Ana Vidigal 4. Ana Jotta
5. Tracey Emin 6. Luisa Cunha
7. Sarah Lucas 8. Marina Abramovic




---
BAD AT SPORTS


(ongoing serie)


TOSTAS MISTAS DO PRIMEIRO ANDAR ︎︎︎

2018

Bricks, ciment, polyurethane and sports sock.
Dimensions variable




---
TOMA!

2020

Broken jug, kitchen paper and wooden board.
Dimensions variable


'Zé Povinho' is a satirical character of social criticism, created by Rafael Bordalo Pinheiro and adopted as a Portuguese national personification. Bordalo Pinheiro himself defined the character:
- 'Zé Povinho' looks at one side and the other and… it stays as usual ... the same ".
However, despite relatively simple, he is a figure full of contradictions:
- "But if he is patient, credulous, submissive, humble, meek, apathetic, indifferent, abulic, skeptical,
suspicious, disbelieving and lonely, it also appears for us, in constant contradiction with itself, simultaneously capable of showing itself incredulous, disgusted, grumpy, insolent, furious, sensitive, compassionate, aloof, active, supportive, coexistent ... "

The main characteristic of the character is the gesture "manguito" * (O Toma!), representing its facet of revolt and insolence.

In this case the piece (which was a jug) was not a Zé Povinho, but a Woman, a mermaid, with her mysteries and charms, making the same gesture as Zé, the "manguito" (O Toma!) while covering one of her breasts and leaving the other uncovered. You can read, inscribed in the piece, "Queres fazer amor? Toma!" or in English "Do you want to make love? Fuck off! "

* man · gui · to
[Informal] Gesture performed with both arms, crossing one over the other, keeping one of them upright, and which serves to offend someone.

View image







---